ACCOMMODATION RODOS PALACE HOTEL
Please note that Rodos Palace Hotel is fully booked.

Should you wish to book accommodation for the MNE 2019 conference in nearby hotels please contact Mrs. Paraschou Georgia at tickets@globalevents.gr and Mrs. Pantelidou Katerina at travel@globalevents.gr.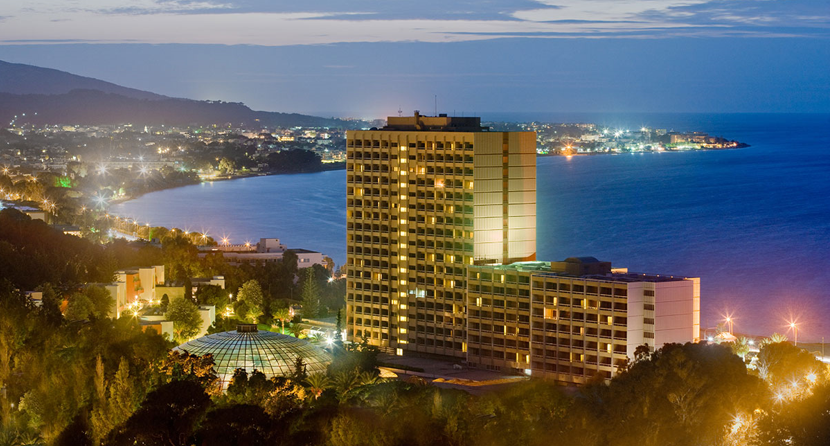 Rodos Palace Hotel is set in a wonderful Aegean setting and offers a wide variety of suites and exceptionally stylish accommodation, and boasts 5 outdoor pools, and 4 restaurants, bar and lounges. The hotel is only 500 m from the long, sandy Ialyssos beach, with the perfectly preserved Rhodes Old Town only a short drive away. Rodos Palace guests enjoy a great array of dining options, including both indoor and outdoor restaurants serving excellent Greek and European cuisine.

On the top floors of the 20-storey Tower, the redesigned rooms and suites are uniquely decorated and come with modern amenities. Next to the Rodos Palace Hotel Tower, you will find the Executive VIP Wing. They both offer accommodation that combines stylish décor, state-of-the-art equipment and beautiful sea views. Spread around the resort, there are 14 picturesque blocks with garden suites. They are spacious, superbly designed and are ideal for couples and families looking for privacy and a series of exclusive facilities, including private pools. Each unit has free WiFi access and is equipped with a Smart TV with satellite channels.
ROOM DESCRIPTIONS
---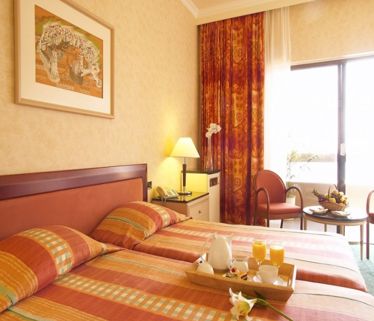 Economy Single / Double room Garden View*

With an open view of the surrounding hills and the Hotel's recreational facilities and pools, these rooms are located in the Hotel Tower offering easy access to the Hotel's recreational facilities.
Each room covers an area of 30m2 with balcony and features one double or two twin beds, a small seating area and mirror wardrobes.

Single room € 95 euros including breakfast
Double room € 105 euros including breakfast

*This type of room is ideal for students or colleagues who wish to have a shared room accommodation
---
Economy Single / Double room Sea View *

The amazing views of the Aegean Sea, the unforgettable sunsets and the feeling of being in a cruise, render these rooms the unique choice for guests who look for a sea view at the best value.
Located in the Hotel Tower, these rooms are right in the heart of the complex with easy access to the Hotel's recreational facilities. Each room covers an area of 30m2 with balcony and features one double or two twin beds, a small seating area and mirror wardrobes.

Single room € 105 euros including breakfast
Double room € 115 euros including breakfast

*This type of room is ideal for students or colleagues who wish to have a shared room accommodation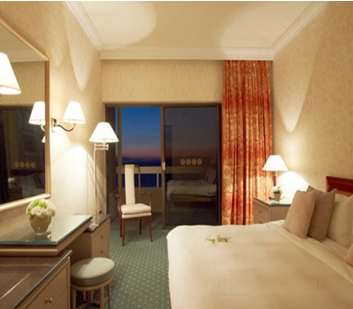 ---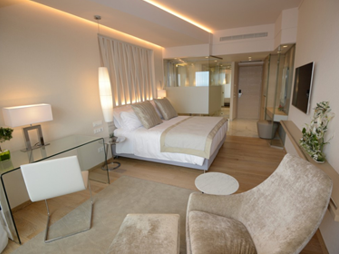 Premium Single / double room Garden View

These modern 25 m² rooms in earth tone colours, offer sweeping views of the surrounding green hills and the pools. With floor-to-ceiling windows, allowing the light to flood the space, technologically advanced products and state of the art bathroom, the well-appointed rooms combine elegant high-quality design and comfort to satisfy all tastes.

Single room € 125 euros including breakfast
Double room € 135 euros including breakfast

---
Premium Single / double room Sea View

These modern 25 m² rooms in earth tone colours, offer uninterrupted views of the Aegean Sea whilst touching the sky. Clever design, floor-to-ceiling windows and state of the art bathrooms the well-appointed rooms combine technologically advanced products with elegant design and comfort.

Single room € 135 euros including breakfast
Double room € 150 euros including breakfast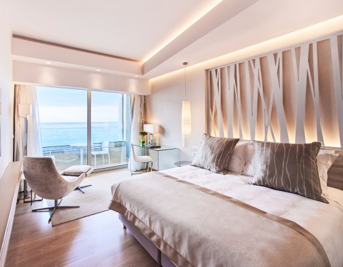 ---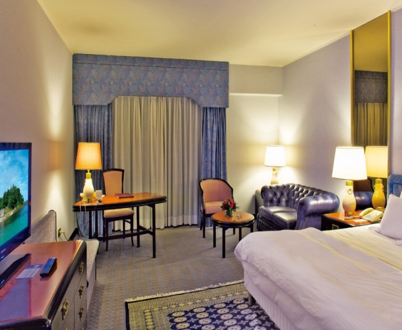 Executive Single/ Double room Sea View

With an open view of the surrounding hills and the Hotel's recreational facilities and pools, Executive rooms are located in the 7-storey Executive Wing, with 2 exclusive lifts.

Blending classic style with comfort and space, these rooms are designed in a Mini-Suite style, offering a total area of 45 m2 (with balcony). They feature an elegant seating area with a leather Chesterfield sofa, a walnut desk and double or twin beds of exceptional quality.

Single room € 145 euros including breakfast
Double room € 155 euros including breakfast

---
Executive Single/ Double room Sea View

Whether you are travelling for business purposes or with your loved ones, you will simply love these Mini-Suites style rooms. Open the doors of your balcony and experience sunsets that will take your breath away.

Relax in the cozy seating area that features a Chesterfield sofa and a walnut desk or simply enjoy the space and comfort of the 45 m2 (with balcony) that this classical style room offers.

Single room € 150 euros including breakfast
Double room € 165 euros including breakfast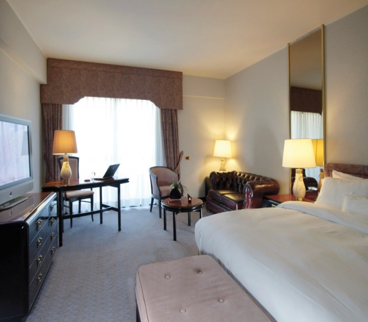 ---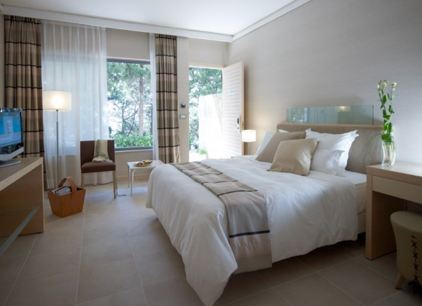 Garden Suite Room

Located in the ground floor of the Garden Suites area, with direct access to the sharing pool, the Garden rooms are elegant rooms with contemporary furnishings.

They cover a total area of 40 sq.m., including a spacious terrace overlooking the lush gardens or the swimming pool. They consist of one Master Bedroom with a small seating area and a dressing area with spacious wardrobes and an adjacent bathroom.

Single room € 125 euros including breakfast
Double room € 135 euros including breakfast

---
Rodos Palace Room Amenities
• High Speed Internet Wi-Fi Access • LG HDTV SmartTV interactive • USB Wall Outlet • Air conditioning • Large wardrobes and drawers • Direct dial phone • Sound proofed windows • Smoke detectors • Mini bar • Double or twin beds • Triple occupancy rooms available with sofa-bed • Fine luxurious linen • His/her Slippers
Bathroom Features
• Bathroom with walk in rain shower • Separate toilet • Hairdryer • Magnifying mirror • Bath amenities
---
Cancelation Policy of the MNE 2019 for Accommodation
• Written cancellation received until
July 26th, 2019
: One night penalty
• Written cancellation received from
July 27th, 2019 to August 30th
: reimbursement of 50%
• Written cancellation received from
August 31st and later
: no reimbursement
Any change or cancellation must be forwarded in writing to info@mne2019.org